About Us

AEROSPHERE HQ
STELLENBOSCH, WESTERN CAPE
Unlock Your Potential. It's more than a mission statement, it's a philosophy we live by.
Everything we do at Aerosphere is built on that foundation. We know that developing advanced eyewear, our environmentally friendly packaging that doubles as a carry case, our exceptional customer service standards and how you as a customer experience us as a company, all plays a part in unlocking your potential. That's really exciting and also a huge responsibility we're glad to shoulder.
Our founder, Jason Grey, is a well travelled international helicopter Pilot. It's his attention to detail and jokingly his OCD, that drives the quality standards of our eyewear and customer experience. That strict aviation culture means everything gets researched, field tested, evaluated, then field tested again before we ever make the product available for sale. Nothing leaves the flight line until we've done a full pre-flight and signed the products out as operationally ready.
Sustainability and material control is something we care about as well. That's why we offer a trade in program on old frames, so we can up-cycle and make them available to communities and people in South Africa that need eyewear but can't afford it. We would like to have a hand in unlocking their potential as well.  
OUR TIMELINE
From aviation to Aerosphere, these are the moments that inspired who we are.

2003 
Jason completed his training as a commercial pilot, joining Altech Netstar in KZN. It was during this time he started sketching t-shirt designs of what was then known as rotorwear.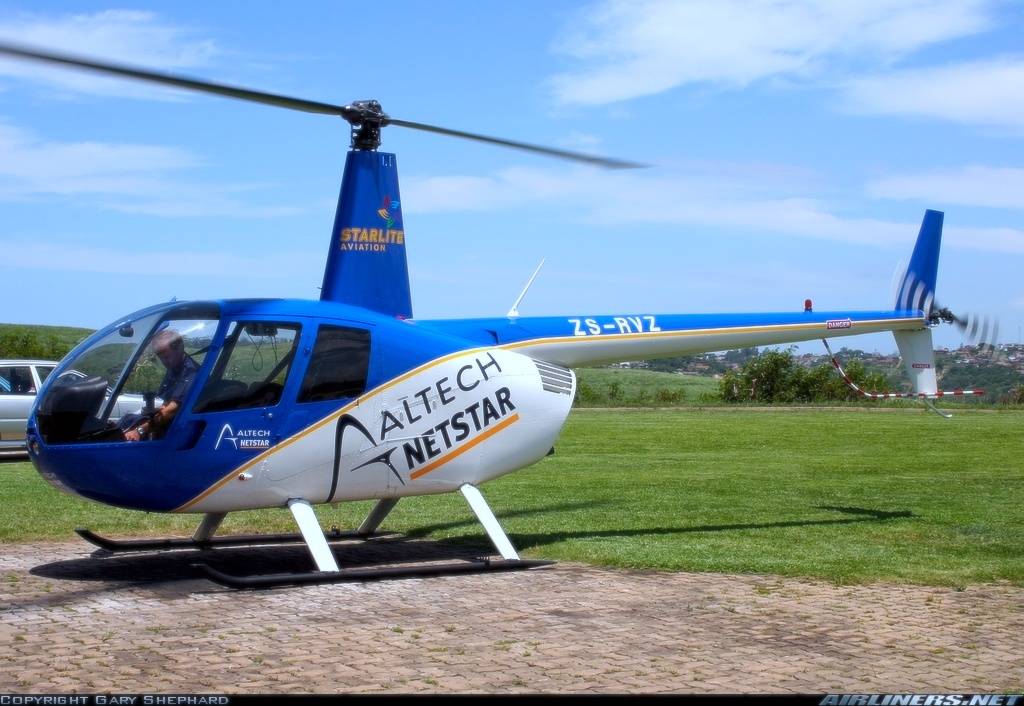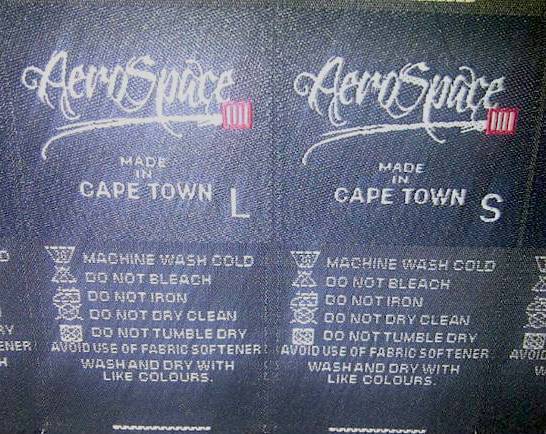 2008 
Jason moves to London and begins contract work in North Africa. He works together with a graphic design friend, Gavin Brophy, and refines what would become Aerosphere's original logo. At this point the name Rotorwear was changed to Aerospace to be more inclusive.
2013 
We purchase a screen printing factory in Santhaghen Rd, Stellenbosch and begin printing clothing for customers, while printing for Aerospace after hours. Kate White, now working for Specialized, joins the team as production manager.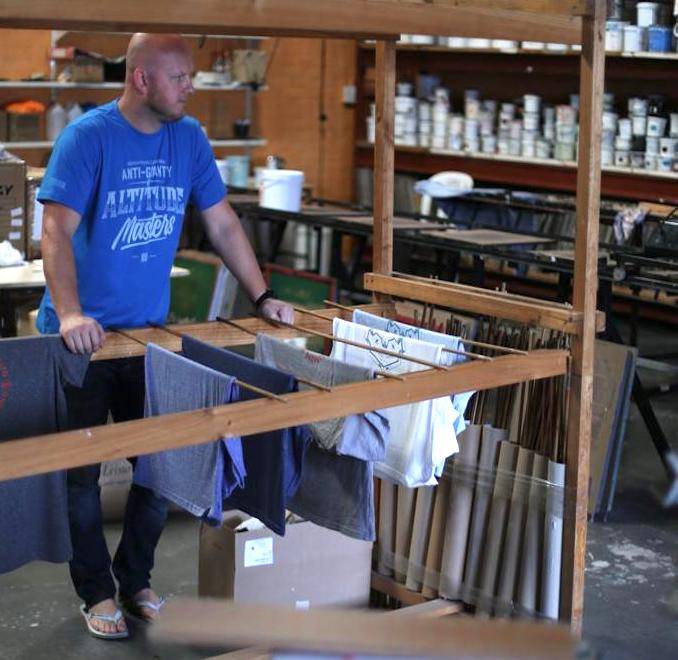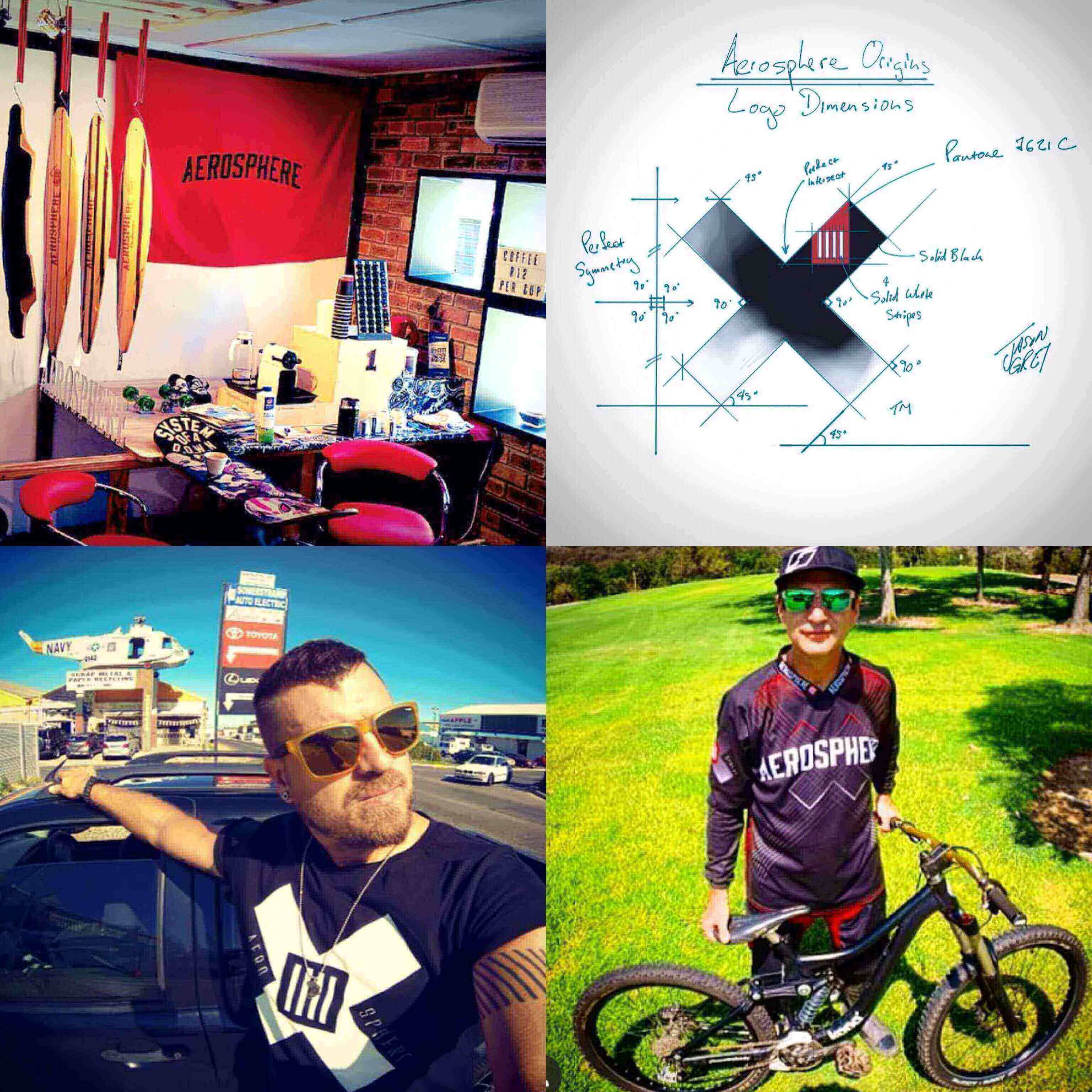 LATE 2013 
The first signs of the X that would become our logo start to appear, incorporating the old red square and bars. At the same time, we open a factory shop above the warehouse and begin trading as Aerosphere Pty Ltd. Our clothing begins growing a small following of downhill MTB enthusiasts at home as well as California and the UK.
2018 
The Aerosphere brand pivots into the eyewear market, the X logo and Aerosphere typeface are trademark registered and the first two sunglass models, Martial 3.0 & Blackhawk are launched.
The story continues...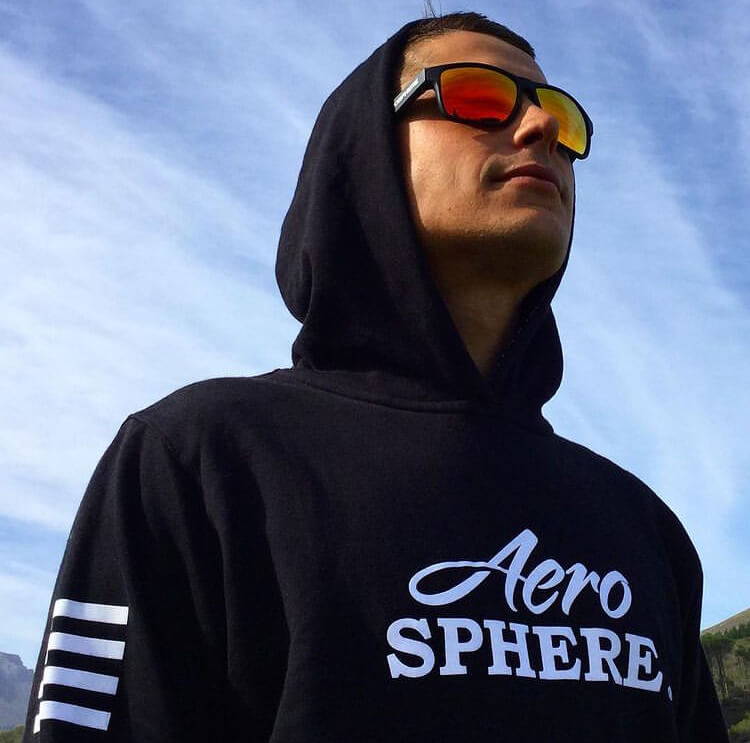 OUR COMMITMENT AND VALUES
We are really proud of our perfect 5 star rating from customers and fans. That's why we've decided not to retail our eyewear and control your experience with us personally. That way we can offer you the most innovative products at the best prices combined with world class customer service.
When we design our products and packaging, we try to remove as many unnecessary steps as possible to limit our impact on the environment. A ton of e-commerce waste occurs in packaging, so we've designed ours to be a carry case as well. Our Chemical X™ eyewear cleaner is Hypoallergenic, contains no Parabens, Phthalates, Sulfates, Dyes or Alcohol. It's completely safe to use on all lenses and frame types. Our Extremis™ frames are a Swedish designed polymer giving you a strong, flexible and ultra-light product to house your lenses.
Eye health is something we don't take for granted. Our lens technologist is at the cutting edge of eyewear technology and advancements, and constantly evaluates what we offer to make sure we're delivering a premium range of products.
We are laser focussed on customer service and your shopping experience, and so w
e commit to treating every customer with dignity and respect. All our support is done in house, and not farmed out to any third parties. if you have any questions or need support, we're here to help.
You are in advanced mode.
You can turn it off in left sidebar. To use advanced options, you will need to enter your own Google Maps API Key.
Get Google API Key